Well folks, it's that time again. Since the last list, I've reviewed another 335 varieties – almost one a day This list reflects the ones I've reviewed in the last year as well as those reviewed before that – 1,365 varieties in all. It seems to get tougher each time – so many good ones! Here's this year's list – the best of the best. With that, I present to you The Ramen Rater's top Ten Instant Noodles Of All Time 2014 Edition.
#10: Mama Instant Noodles Yentafo Tom Yum Mohfai Flavour – Thailand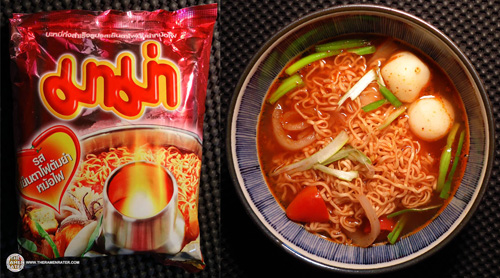 Yentafo (aka yong tau foo) has a spicy and sweet flavor. The sweetness is derived from hoisin sauce and the spiciness from chillies. Seasoned brown noodles are complimented by these unique flavors as well an a nice bit of heartiness from oil.
Original review here
#9: Nongshim Soon Veggie Noodle Soup – South Korea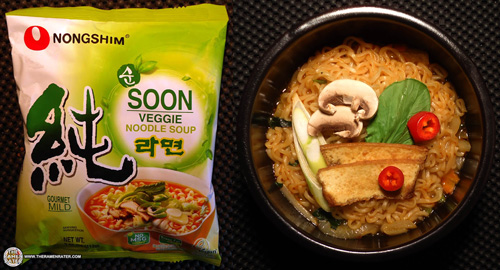 This is the first instant noodle on the top ten to be marketed towards vegetarians. What surprised me about it was the broth had such a full flavor to it; deep and satisfying. The noodles are slightly larger in gauge than your run of the mill instant, which is common of South Korean 'ramyun.' Magnificent stuff!
Original review here
#8: Prima Taste Singapore Chilli Crab La Mian – Singapore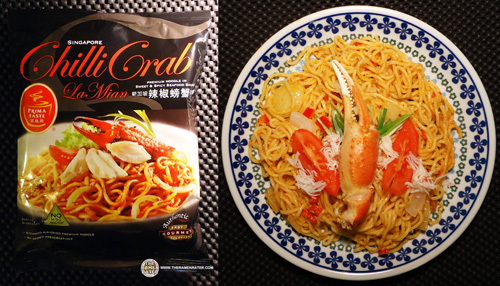 Prima Taste's third appearance in the top ten. Chilli Crab is considered the signature dish of Singapore. This is a brothless variety – excellent, chewy noodles and a sweet sauce that has a sweet, spicy and buttery taste. If you like crab, this is one to try.
Original review here
#7: Mamee Chef Curry Laksa Flavour – Malaysia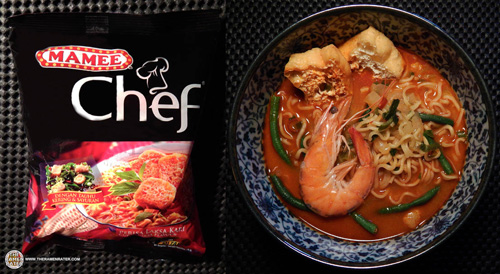 This one was a pleasant surprise. Touting Mamee's 'Mi Tarik' technology to approximate the same texture as hand pulled noodles, they chewiness and gauge are really quite special. The broth has a beautiful hit of cumin that adds a richness I found delectable. Garnish included small bits of tofu puff!
Original review here
#6: Paldo Cheese Noodle – South Korea
These noodles – wow. I think the best addition to South Korean ramyun has to be cheese. Well, not only is cheese included here but it's got just the perfect notes of spiciness and strong, rich flavor. The little guy with the sign that says cheese noodle rocks as well.
Original review here
#5: Samyang Foods Maesaengyitangmyun Baked Noodle – Southh Korea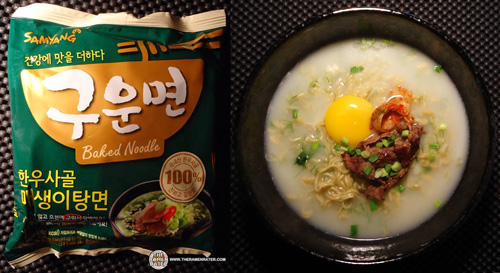 Last year was the 50th anniversary of ramyun in South Korea, pioneered by Samyang Foods. Samyang decided to try making something new – SBN, a baked noodle. What's really neat here is that the noodles smell like bread! The broth is a lot like gomtang, a traditional beef soup. To shake it up, maesangyi is added – kind of like seaweed spun into a cotton-like consistency. The finished product is quite delectable; almost like a chowder!
Original review here
#4: Sapporo Ichiban Otafuku Okonomi Sauce Yakisoba – Japan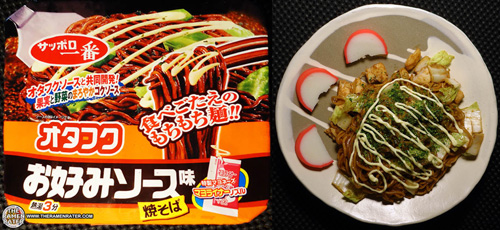 I've always really loved yakisoba and this is the best I've found in an instant form yet. Otofuku is a brand of yakisoba sauce that can be found almost anywhere, and it's inclusion in this one is just perfection. What's more, the noodles are garnished with green laver (flaked seaweed) and a little mayonnaise packet!
Original review here
#3: Prima Taste Singapore Curry La Mian – Singapore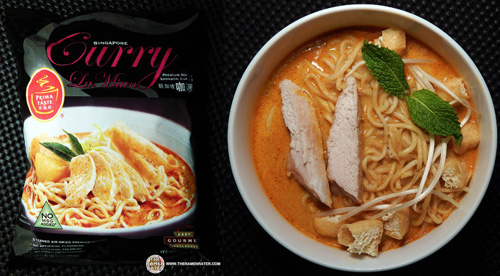 Premium chewy noodles are given the opportunity to swim in some of the best curry broth I've ever had. The real difference here is that there are two sachets – curry paste and a 'premix' which is primarily coconut powder. Sheer delight!
Original Review / Special 2014 Re-Review
#2: Prima Taste Singapore Laksa La Mian – Singapore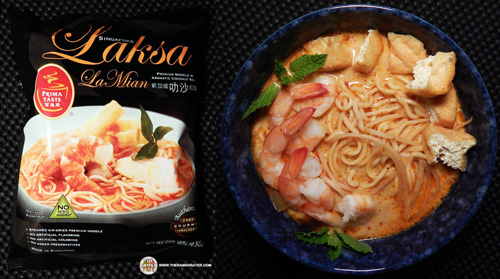 Prima Taste's La Mian noodles are just pure wonderful, and their paste and coconut powder sachets are brimming with rich flavor. This one is a little spicy and has strong shrimp flavor. Little beads of chilli oil dance around the top of the broth like miniature rubies. Spectacular!
Original review / Special 2014 Re-Review
#1: MyKuali Penang White Curry Noodle – Malaysia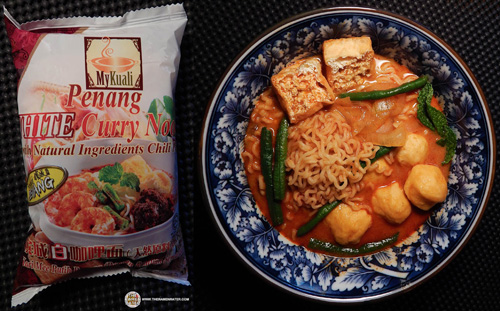 The ultimate! The noodles are just the right texture and gauge – not too wide or too narrow with a chewiness that is perfection. The broth is amazing – extremely spicy (hit #7 on the 2013 Spiciest Instant Noodles list), and features a strong curry flavor and a hearty finish. I am truly impressed with this one and would consider it to be the one I would love to eat every day. Bravo!